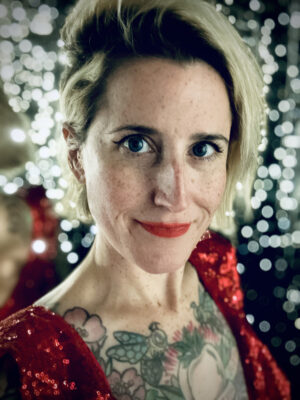 Creating has always come naturally to me; in fact, there isn't a time in my childhood I can remember when I was not coloring, drawing, or painting. With a mother and grandmother who are both artists too, my creative talents were encouraged and nurtured. My first experience with digital art was with a Super Nintendo game called Mario Paint. After getting a computer for my birthday, I taught myself how to code HTML and manipulate images. To say that the internet changed my life is not an understatement– from the moment I was able to get a copy of Photoshop, I knew that graphic design was what I wanted to do when I grew up.
Since beginning my design career, I've frequently found myself on both creative and technical teams. I now have the perspective of both the design and production sides, giving me the ability to confidently walk a project through from start to finish. I have extensive knowledge of a variety of industries and fields including marketing/advertising, corporate branding, product development, publishing, and commercial printing. Experience in these often fast-paced environments have been invaluable to my career, allowing me to flourish within tight and fluctuating deadlines.
I have many additional strengths that I can bring to any role: I take direction well, I have a great memory and critical eye for detail, and one of the most consistent pieces of feedback I receive is praise for my ability to take a client's vision and turn it into something better than they could have imagined. I pride myself on being adaptable to ever evolving technology, and fully confident that I can handle anything thrown my way.
I put my heart and soul into everything I do and would love to be a part of your team. Let's get in touch!